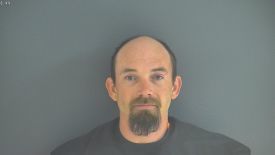 A 34-year-old Bedford man has been charged with one count of obstruction of justice and one count of domestic assault after a standoff at a home in Moneta, according to a news release from Maj. Ricky Gardner of the Bedford County Sheriff's Office.
Bedford County Sheriff's Office deputies responded to a call for a domestic disturbance on Lilac Road in Moneta on May 10. When deputies attempted to take James Roy Fulk into custody, Fulk barricaded himself in his home for several hours before being taken into custody without incident, Gardner said.
Fulk is currently being held at the Blue Ridge Regional Jail without bond, Gardner said.