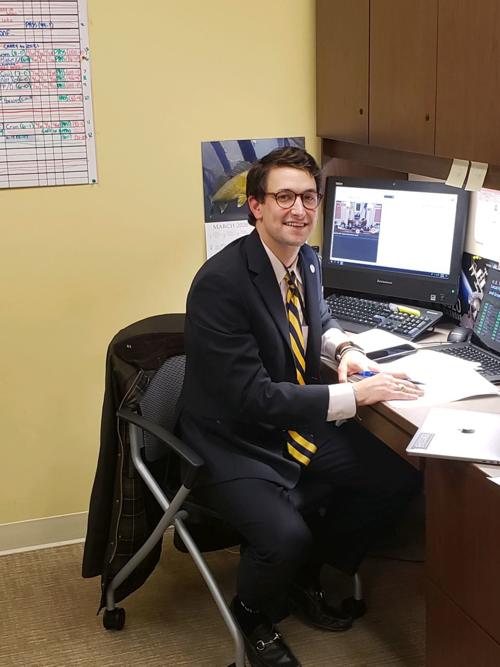 The Virginia Department of Game and Inland Fisheries has agreed to pay $900,000 to a Martinsville family over the alleged mishandling of a fatal boating accident on Smith Mountain Lake almost four years ago.
The settlement, made final on Feb. 13, ends a long ordeal for Drew Hall, who was charged by conservation police as the driver of a boat that collided with a jet ski on July 3, 2016. Gabrielle "Gabby" Ayers, a 17-year-old passenger on the jet ski, died from injuries in the collision.
The agreement between the department, Hall and his father, Richard Hall, came almost a year after a Pittsylvania County judge threw out Hall's conviction on a misdemeanor charge of improper boating because game department officers had withheld evidence that suggested the jet ski driver may have been at fault in the accident.
The game department issued a public statement on March 6 that said it "will not pursue any further charges" against Drew Hall, whom it considers "clear of criminal liability in this matter."
Hall is working in the legislative office of Sen. Bill Stanley, R-Franklin County, one of his defense attorneys.
"My name is finally cleared after 3 long years of unfair treatment by the DGIF," he said in a statement March 6. "I believe they are trying to change how they operate. The mistakes and misdeeds of a few should not define an entire agency, but I believe having integrity is crucial as opposed to just trying to meet another department goal."
Hall's mother, Sallie, died of a heart attack in 2018, shortly before she was scheduled to give a deposition in a wrongful death civil suit filed against him and the operator of the jet ski.
"It has been difficult to move forward with this hanging over my head, and I want to move on," he said.
His father, Richard, said in a statement, "The primary goal of our effort has always been to clear Drew's name and to do everything possible to prevent anything like this from ever happening to another citizen. True accountability will serve as the greatest deterrent to unlawful actions and unfair treatment of citizens in the future."
Ryan Brown, a lawyer who became director of the game department last summer, pledged March 6 to carry out a number of reforms at the agency as part of the settlement to improve operations and oversight of its law enforcement division.
"It's a pretty comprehensive approach to improve the agency for our dedicated staff, for the public and for our constituents," Brown said.
The new director took the job shortly after a story was published last July about the fatal accident and the game department's withholding of evidence from defense lawyers that suggested the driver of the jet ski, who was not charged, may have been at fault in the fatal accident.
On March 6, Brown did not discuss the department's handling of the case, but in remarks to the agency's board of directors in October, he said, "The public also deserves our very best and I will tell you that in the case of the Hall case, becoming as familiar as I am with it, the DGIF corporately owed the individuals and families involved in that case better than what we delivered."
"We owe the constituents who pay our salaries better and we as an agency for sure owe better to our own dedicated officers who do such a great job for us," he said. "I never want to see another case like the Hall case, and I mean that."
The game department's budget comes from license fees, not general tax funds.
The case began as crowds gathered on the eve of July 4 for a fireworks celebration around the Anthony Ford Boat Ramp on Smith Mountain Lake. Hall, then 20, accompanied by Capers Zentmeyer, 22, was piloting a power boat as it left the cove and gained speed heading to the main channel of the lake.
The jet ski, driven by Rentz Brandt of Danville, collided with the boat, and Ayers, of Pfafftown, North Carolina, was fatally injured. Hall jumped into the lake fully clothed in an effort to rescue them both and bring them to shore, but Ayers could not be revived. Brandt was taken to a hospital with minor injuries.
Hall was charged with reckless boating, underage alcohol consumption and possession of fake IDs. He acknowledged drinking one beer with dinner two hours earlier. Pittsylvania Judge George Jones Jr. dismissed the alcohol charge under the first offense statute and the fake ID charge because it cited the wrong law.
However, Hall's family and defense lawyers raised concerns during trial in 2017 about evidence withheld by game police that suggested the jet ski was approaching the boat at a 45-degree angle and swerved at the last moment. The evidence included written notes by one conservation officer and a recording, discovered during trial, of a hospital interview with Brandt, who said that when he saw the boat to his right, "like I tried to swerve and I hit it."
"We said, 'Holy cow! That makes a big difference!' " Stanley said in an interview last year. "At the moment of impact, the vessels had changed positions."
Ayers suffered multiple injuries to her right side as the back of the swerving jet ski collided with the boat.
Hall was convicted of a reduced misdemeanor charge, which Jones dismissed during a hearing on March 18, 2019, in which Commonwealth's Attorney Bryan Haskins acknowledged that evidence had been withheld that should have been shared with the defense.
"It chafes my rear end [that] this evidence was withheld," Haskins told the judge.
Game department officials said officers did not withhold evidence intentionally, but acknowledged the need for uniform policies, training and staffing across the state, including the creation of a major incident investigation team.
"Drew's good name and integrity finally have been fully restored," said Stanley, who worked on Hall's criminal and civil cases but sat out negotiations on payments because he's an elected state official.
"First with his eventual vindication in a criminal court of law, and now with a far-reaching settlement with DGIF that will bring much needed criminal justice reforms to the daily law enforcement operations of the agency, this resolution will ensure that the injustice suffered by Drew will not happen to someone else in the future."
Along with the settlement, the department:
created a law enforcement committee of its governing board, which held its first meeting in January;
established a "major boating incident investigation" team;
adopted uniform policies to become accredited by the Virginia Department of Criminal Justice Services;
agreed to provide constitutional training, including the requirement that officers provide potentially exculpatory evidence to defense attorneys under the doctrine established by the U.S. Supreme Court in Brady v. Maryland in 1963; and
improved its process for responding to requests under the Freedom of Information Act.
"The best thing that has happened at DGIF is a new administration that is willing to admit the mistakes of its predecessors and take definitive action to overhaul the agency," Richard Hall said.
"It is my personal hope DGIF will continue to evolve with more transparency, improved adherence to their own policies, better investigations and increased accountability."