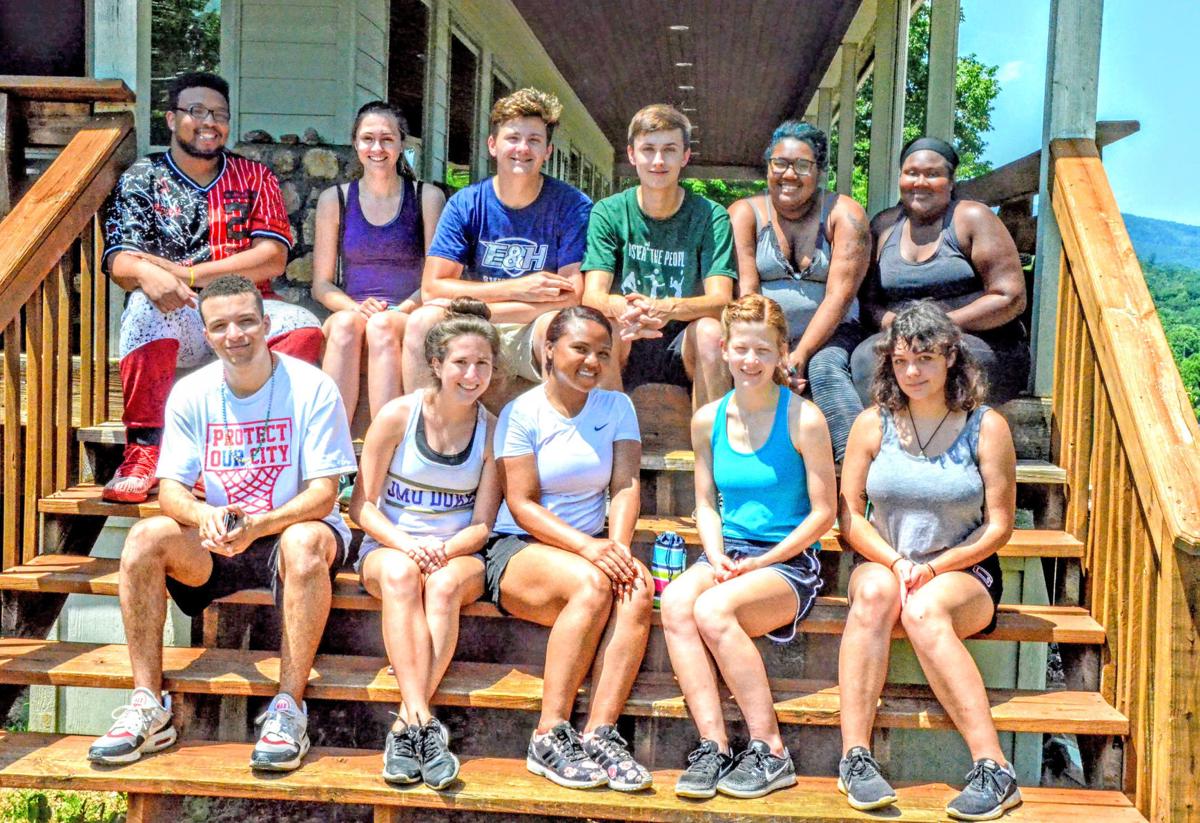 Each summer, SML Good Neighbors recruits students from area colleges with the task of educating and entertaining children in Bedford and Franklin counties. These summer interns live together for nine weeks as they work to develop programs that will benefit children who often come from homes with limited resources.
The summer enrichment camps have grown from 65 students in the first year in 2006 to more than 300 kids this year. The camps are held for four weeks in Franklin County and four weeks in Bedford County.
The first four weeks of camps began at Lee M. Waid Elementary School in Rocky Mount on June 3. Eleven interns arrived the previous week and began planning coursework while settling in with new roommates.
The interns all live together at the SML Good Neighbors headquarters just north of downtown Moneta. The accommodations were built last year after a fire destroyed the previous building in 2016.
Most of the interns come from colleges in Virginia and North Carolina. Several are pursuing degrees in education or have previous experience working with children.
"I love this," said Celeste Barnett, a student from Ferrum College, as she developed plans for the camp on May 31. "This is what I want to do with my life."
Barnett is pursuing a degrees in mathematics and education and wants to be a teacher. She heard about the Good Neighbors internship from an adviser at Ferrum College.
Guy Ramsey, another Ferrum student, is planning a career in social work. He heard about the program at a career fair at the college. "It sounded really interesting," he said.
Ramsey admitted to being nervous as he prepared lesson plans for the camp. To combat some of that uneasiness, SML Good Neighbors staff have the interns work together in developing plans.
Lisa Lietz, program director for SML Good Neighbors, said the nonprofit looks for students who are good at communicating and working together.
Information is sent to more than 300 colleges about the internship program each year. "We welcome any college student to apply," Lietz said.
Lietz attends career fairs at area schools to discuss the program with students. She also shares information about the program with students she meets in the community.
Zack Key, a student at the University of Virginia, heard about SML Good Neighbors from his church where Lietz is also a member. He is pursuing a major in systems engineering, but liked the idea of helping to educate others in the community.
Another intern, Malala Penn, is a student at Mary Baldwin University. She lives in Union Hall and heard about the internship while volunteering at Booker T. Washington National Monument.
"I just love what they are doing here," Penn said.
Penn is majoring in business, but also is interested in marketing. She said one day she would like to start her own nonprofit similar to SML Good Neighbors.
Penn is one of two interns who returned this year and said she was excited to come back and see how her students have grown. "I really missed them," she said.
Dakota McLean is also returning this year. She attends Gilford College in Greensboro, North Carolina where she studies English and German.
McLean said she enjoys being a positive influence for the kids during the summer. She shares a connection with kids who have problems at home because she has lived through it herself. "I came from a home that was pretty much broken," she said.
In addition to helping to prevent students from falling behind during the long summer break from school, the summer enrichment camps also try to work with troubled kids who are attending. McLean said she spent several weeks last year working with a student who was bullying other kids.
McLean worked with him and was able to make progress. She said she is excited to see how far he has come this year.
Since 2006, dozens of interns have participated in the SML Good Neighbors summer enrichment camps. Many have gone on to successful careers.
Angela Massino, an intern for several years between 2009 and 2011, now works as the director of digital content and innovation for WCVE in Richmond. She said the nonprofit was a significant help in getting her career going.
In addition to learning to work with other interns and planning educational classroom activities for several weeks, Massino said SML Good Neighbors Executive Director Russ Baskett also gave her the opportunity to create digital content about the nonprofit while she was interning. He also connected her with another nonprofit in Washington D.C. to continue furthering her career after college. "I owe a lot to Russ Baskett," she said.
Massino also remembers many of the children she worked with for several years. Like many of the interns who returned for multiple years, she looked forward to seeing how students had grown. She recalled working closely with a girl in elementary school with behavioral issues for several years. When she returned for a visit a few years later, the girl was a student leader in the middle school program.
In addition to helping children learn and grow, Massino said she enjoyed getting to know new people. She also recalled the kindness of the community and SML Good Neighbors board members who took them in for dinners and boat rides on Smith Mountain Lake.
"They really were the best summers," Massino said.