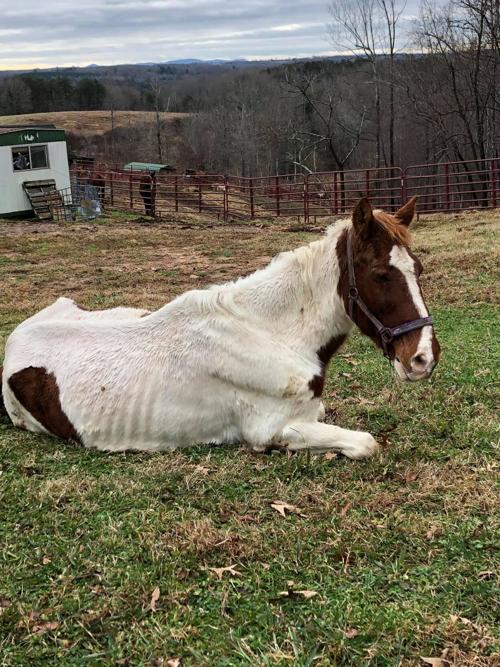 If nonprofits have learned anything from the COVID-19 pandemic, it's to rethink the way they raise funds. Roanoke Valley Horse Rescue is just one example.
"This year has been a challenge for us here," said Pat Muncy, president and CEO/founder of RVHR. "We have been unable to have our normal open visiting hours, which has led to very low placements of horses and very low donations."
Currently there are 43 horses at the Hardy rescue with the majority of them over the age of 20, which can make placement into permanent homes difficult, Muncy said.
The rescue has been asking for patrons to sponsor horses in their care for monthly donations of $25, $50 and $100.
"We have gotten all 43 horses now with a $25 a month sponsorship," Muncy said. "We are now working on $50 sponsorships for 34 of the herd, and 29 horses are left in need of a $100 monthly sponsorship. As a thank you, each sponsor does receives a little gift from their sponsored horse."
The rescue averages between $2,500 and $3,000 a month in feed, Muncy said. "On average one horse under 15 costs the rescue about $175 a month in basic feed. For the other older rescue horses, it can be double as they need senior feeds and chopped hays."
In addition, hoof care costs $346 annually, while basic shots and Coggins tests (for equine infectious anemia) run about $220 a year for each horse, Muncy said.
"This doesn't include hay cost or deworming quarterly for all the horses," she added.
Over the past year, the rescue has seen an increase in owners looking to rehome their horses because they can no longer afford to care for them, Muncy said.
"Unfortunately we do not have the funding to take on owner releases," she said. "Our goal during this time has been to help county animal control offices with those horses who are being removed due to starvation, neglect and abuse."
Since opening in 2002, RVHR has helped save 355 horses, Muncy said. The rescue is always looking for volunteers to help with the horses' twice daily feeding.
"Volunteers are very important to our success," Muncy said. "80% of the general daily caretaking of the horses is done by our volunteers. We are in great need of morning (9 to 11 a.m.) and afternoon (3 to 5 p.m.) volunteers to help with feeding, watering and general stall and building cleaning."
The rescue also accepts food donations, including canned corn, canned carrots and corn oil, Muncy said. Sentinel senior feed, rice bran, omega plus and beet pulp are items that donors could purchase at Rockingham Cooperative in Wirtz for the rescue, too, Muncy said.
More information about Roanoke Valley Horse Rescue can be found at www.rvhr.com.