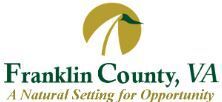 Voters in four Franklin County districts will head to the polls Nov. 5 to elect their representatives to the board of supervisors.
Seats in the Blackwater, Blue Ridge, Gills Creek and Union Hall districts are on the ballot for four-year terms. Only one race, for the Blue Ridge District, is unopposed, and only one other race, in Gills Creek, does not feature an incumbent. Supervisor Bob Camicia is not seeking reelection in that district.
Candidates shared their thoughts on Franklin County's biggest projects — development of the 550-acre Summit View Business Park and the effort to expand career and technical education offerings at the high school — and explained why they want to serve on the board.
Cline Brubaker, Blackwater District
Cline Brubaker was motivated to run for the board of supervisors in 2011 by his neighbors.
The longtime dairy farmer didn't have political ambition, and his older brother advised staying out of "that mess." But Brubaker didn't listen.
"If these people respect me enough to ask me to run, what kind of a person will I be if I just walk away from it and say I'm not going to do it?" he recalled thinking to himself.
The same logic prompted Brubaker, 75, to seek a third term. He is running as an independent.
The supervisor, who currently serves as board chairman, said he's a strong advocate for career and technical education. He said another architecture firm is crunching the numbers, looking to find "more economical ways" of moving the project forward.
Reining in those costs is essential.
"We don't have a bottomless bucket," Brubaker said.
Brubaker believes Summit View is a good investment. From his experience running a dairy farm, Brubaker said he learned how important it is to invest in the future.
"You can't stand still," he said. "The only thing constant is change."
Additionally, Brubaker said he's excited about the growing partnership between Virginia Tech and Carilion in Roanoke. Perhaps "spinoff" businesses will locate in Summit View, he mused.
Working to extend broadband to underserved parts of the county and continuing to invest in parks and recreation offerings are among Brubaker's other priorities.
Brubaker said his experience on the board — Brubaker has served for eight years, four of them as chairman — and as a small business owner make him the best candidate.
Ronald Mitchell, Blackwater District
A desire to create opportunity for Franklin County's children prompted Ronald Mitchell to make a bid for the board of supervisors.
Mitchell, who owns a landscaping business, doesn't want to see his young daughter leave the county to find work when she grows up. The 35-year-old political newcomer is running as an independent.
Expanding the high school's career and technical education offerings is a priority for Mitchell. But plans presented thus far have been expensive. He proposes going "back to the drawing board."
The candidate also said the board of supervisors and school board must set aside their differences.
"We have to make that relationship work, we have to make it better," Mitchell said. "The only thing we're doing is we're hurting the children."
Mitchell said his opinion on Summit View is simple: "We have to make it work."
The county has made an investment and needs to see the project through, Mitchell said. The candidate hopes it will bring jobs that pay well.
"Everybody wants jobs and everybody wants industry to come to Franklin County," he said. "Well, you've got to have a place for it."
Additionally, Mitchell said high-speed internet should be available and affordable to all. He'd like to see the county invest in improvements, hopefully enticing providers to pitch in as well.
Mitchell described himself as a "well-rounded" candidate, noting he's a business owner and volunteer firefighter, and will have a child in the school system in a few years.
"Franklin County made me the person I am today, and this is my way of giving back," he said.
Tim Tatum, Blue Ridge District
For Tim Tatum, serving Franklin County is natural.
He's done it with the sheriff's office, volunteer fire department, Ferrum College police and board of supervisors.
Tatum, 53, is seeking a second term. He is running as an independent and is unopposed on the ballot.
"I've been serving Franklin County for over 30 years in some capacity or another and I just enjoy being active in the community and taking part in the decision-making," Tatum said.
Franklin County's biggest challenge is securing its "economic future," he said. That involves recruiting new businesses and building on the county's career and technical education program to ensure it can offer skilled workers.
When Tatum joined the board, it had already voted to purchase land for Summit View. It's hard to say now whether he would have voted for it then, Tatum said.
"But since it has been started I think it would be short-sighted on the board's part to not complete it," he said.
Tatum recognizes the project has been costly, but said in today's climate, businesses won't choose a park without infrastructure in place.
While he would like to see the career and technical education program expanded, he said the plans presented call for a total revamp of the high school, which is not financially feasible. The project scope must be prioritized and made more affordable, Tatum said.
Tatum counts completing the village plan for Ferrum and bringing Jamison Mill Park under county management among his notable accomplishments.
"Franklin County is a great place to live, and we want to keep it that way," Tatum said.
Lorie Smith, Gills Creek District
Not long after moving to Smith Mountain Lake, Lorie Smith knew she wanted to serve the community.
Smith, 57, served one term each on the school board and city council in Waynesboro. She's active in the community she now calls home, currently serving as president of the Smith Mountain Lake Association.
"The primary motivator is really to serve the people and to try to improve upon things and leave things better than I found them," said Smith, who is running as a Republican.
Smith views Summit View, and tax increases that would be necessary to cover debt service on the project, as one of Franklin County's greatest challenges. A lack of growth is another, related issue.
"We've got to do something about growth because it's directly correlated to our economy," she said.
Business parks are "wait and see" projects, Smith said, since full buildout can take decades. In the meantime, she proposes focusing on the designated growth areas of Westlake and Union Hall, which she believes are poised for development.
If the county hopes to build a new career and technical education center, Smith said the board of supervisors needs to have a more productive relationship with the school board. She'd like to see the two boards meet more often.
A significant portion of Franklin County students do not go on to college; Smith said they deserve an opportunity for workforce training.
"I feel I'm the best candidate because I have extensive governmental experience," she said. "I know how local government works. I know how to strategize and run 150 million-plus-dollar budgets."
Rick Smithers, Gills Creek District
When opponents of the Mountain Valley Pipeline had their land taken by eminent domain, Rick Smithers began thinking about running for the board.
"I thought, 'Somebody needs to stand up for the people,' " said Smithers, who is a pastor and also has a concrete foundation business.
Smithers, 52, is a first-time candidate running as an independent.
The candidate said he would be an advocate for children and the school system. Though there's a lot of talk about building or improving school facilities, Smithers said increasing teacher salaries is a more pressing issue. He also wants to make sure kids are cared for, citing the recent controversy over a lunch debt policy.
Still, Smithers said he would like to see career and technical education offerings expanded.
Concentrating on students means making sure they'll have places to work as adults, Smithers said. County leaders have proposed Summit View as a way to do that, but Smithers has concerns about the project's cost.
"How much more do we have to put into this project before Franklin County starts seeing a profit from it, or starts getting paid back the money it invested?" he asked.
Given the money spent, Smithers hopes it will attract new businesses.
"I'm like anybody else — I'm crossing my fingers and praying that this park is successful," he said.
But he believes there should be a point at which the county halts investment in the project.
Smithers said many people at Smith Mountain Lake live on foundations his company laid for them.
"Franklin County needs a strong foundation," he said. "I've got experience in that."
Tommy Cundiff, Union Hall District
Tommy Cundiff is seeking a second term on the board of supervisors because there's more he wants to do for the district where he was born and raised.
That includes bringing public water and broadband to unserved parts of Union Hall, building a community park with a beach and getting the new Glade Hill fire station up and running.
Cundiff, 68, hauls equipment for Boone Tractor. He is running as an independent.
Though Cundiff inherited the business park project as a member of the board, he supports the effort.
"I believe there is a bright future for the park, not necessarily for me, but for the future generations coming on," Cundiff said.
The region has lost many industries, he said, making it important to draw new ones. Cundiff also noted the park will have recreational amenities for the public.
"In the future I think people will realize that it's a good thing for Franklin County," he said.
If Cundiff is reelected, he plans to spend his next term pushing hard to move the career and technical education project forward. He said the board of supervisors and school board need to agree upon a plan that's financially attainable.
"The biggest thing is getting the boards to work together to get this going," Cundiff said.
That project goes hand-in-hand with the business park, he said, as the high school's students may one day work at Summit View.
Additionally, Cundiff advocated for promoting tourism, attracting more shops and restaurants and providing recreational opportunities.
Cundiff said his strong ties to the Union Hall District and experience on the board make him the best candidate for the position.
John Hinkell, Union Hall District
John Hinkell wants to serve on the board of supervisors for a simple reason: To give voters a say in how their tax dollars are spent.
Hinkell, a veteran of the Army National Guard now transitioning to retirement, said Franklin County citizens have concerns about spending related to Summit View.
"Taxpayers want evidence that their funds are being used efficiently and wisely," he said.
Hinkell, 49, is running as an independent. This is his first time seeking public office.
The candidate advocates for taking a "strategic pause" to reevaluate the business park endeavor and ensure a worthwhile return on investment. Hinkell said it might be wise to "curtail" investment in public amenities at the park in the meantime.
Hinkell supports the effort to expand career and technical education offerings, and said the board of supervisors needs to commit resources to that project. Perhaps the business park has hindered their ability to do so, Hinkell said.
"All our eggs are in one basket with the business park and there's other good programs going on like this career and technical education that could pay significant dividends if we were able to apply some resources to it," he said.
Helping Franklin County grow depends on two things, Hinkell said: keeping tax rates low and revitalizing towns and village centers.
Hinkell said his professional background involved budgeting, contract negotiations, holding others accountable and building partnerships — skills he feels will be useful on the board of supervisors.
"I believe with some civility, dedication and a can-do spirit we can work together to find common ground and build a prosperous community," Hinkell said.