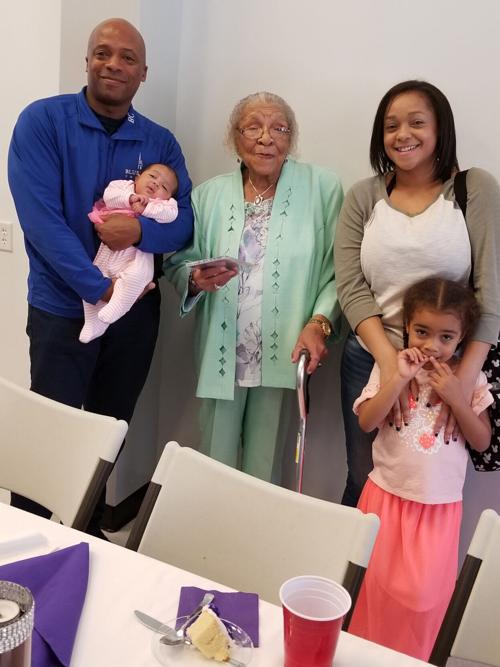 With the pandemic still in full swing, many have been unable to celebrate birthdays with all their friends and family this year, but this past weekend, friends and family were able to gather to wish 100-year-old Gladys Marie Gray a socially distant happy birthday, according to her grandson Norman Gray Sr.
Gray, who now lives in the Grassy Hill area, was known as "Red Head" in her younger days. She was born in Burnt Chimney on April 1, 1921 to the late Fannie May Woody of Roanoke (who died at 104) and John O'Tell. Omas Patterson was her stepfather who raised her from childhood. Her blended family of siblings included Ervin, Wallace, Lewis, Deborah, Kadejah, Sally, William and Kristin, who now is 94 years old.
Gray grew up on her family's farm, and during her teenage years, she began doing "masta's [master's] work," which consisted of wearing a uniform, raising white children, caring for the home, cooking and serving the homeowners and their guests. As an adult, she worked Lane's Furniture Factory as well as Bassett Furniture.
Gray recalled the day she met her future husband, Lewis Gray, at the "Coca-Cola place." "He was sitting there with his cap on and he was looking at me. He kept looking and [he] got up and played the piccolo (jukebox) and then he bought me a soda. That's where it all started. Then he went into the Army, and I didn't go with him and when he came back he came looking for me and then we married."
The two were married for 60 years before Lewis died in 2006 and raised nine children: Billy, Nancy, Lolene and Florene, Lewis (deceased), Frances, Raymond, Mark and David.
While Gray learned many life lessons from her mother, one she said that still sticks with her today and influences how she lives her life is, "to be happy today, because you never know what tomorrow is going to be [like]."
When asked about her experiences over these 100 years, Gray said there were times of joy and times of hardships, but every day she tries to remain happy and to love people. She recalled the time when Blacks were not allowed to mix with whites. Growing up in that time period, she initially wasn't able to attend school, but when she was finally given the opportunity, she attended a segregated one room schoolhouse in her church home.
Now that Gray has reached a milestone that most can only hope to reach, she reflects back and said her prayers were answered. Since the pandemic, she mostly has stayed at home, but now that she is fully vaccinated, she said she feels safer, Norman Gray said. When her sons or daughters take her out, she has enjoyed shopping at Roses and getting her hair done. When she's at home, she said she enjoys watching "Jeopardy,: cooking homemade dishes, including cornbread and black-eye peas with rice, and watching her roses and daffodil flowers bloom.
"I would like to thank my two nieces, Mecarra and Mecayla Gray, for interviewing their great grandmother," Norman Gray said. "The entire Gray family is excited to wish the oldest person in our family a Happy Birthday. Not many families can say they have five living generations in 2021. As her grandson, I hope to celebrate many more birthdays with my inspirational grandmother."