The first of two men charged with sexual assault following a daytime incident at a Franklin County park two years ago has pleaded no contest to one count of rape.
Sammy Ahmed Hamadeh, 24, of Roanoke entered into an agreement with prosecutors that gave him a 30-year prison sentence, time that will be suspended after he serves nine years. He has been held since the incident, June 25, 2019, and will receive credit for the nearly two years he has already served.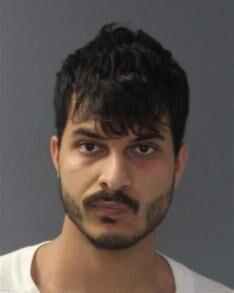 Hamadeh's plea came June 1, just before he had been scheduled to begin a three-day jury trial on two counts of rape.
Sentencing guidelines on both charges combined ranged from roughly 15 to 33 years in prison; on the charge to which Hamadeh pleaded, he had faced seven to 15½ years.
Hamadeh and another man, Jorge Luis Pena, 28, were both arrested at Smith Mountain Lake Community Park after two juveniles told lifeguards that a woman was being attacked on a nearby beach. The witnesses also reportedly used a cellphone to capture video of what they saw and heard. While that footage likely would have been shown at trial, it has not been presented in court.
At a preliminary hearing in 2019, the men's accuser — a then-19-year-old college student, whom The Roanoke Times is not identifying because this is a sexual assault case — testified for nearly an hour and told a judge that she and a close friend, and several of her friend's acquaintances including Hamadeh and Pena, had been partying that day at Smith Mountain Lake.
The woman acknowledged that they had been smoking marijuana and drinking, and she said that when she later found herself alone with the two men, both forced themselves on her while she was heavily intoxicated. She said she had felt physically unable to fight but had screamed for help.
On June 1, Franklin County Assistant Commonwealth's Attorney Sandra Workman said the two juvenile witnesses "saw what they first thought was consensual sexual activity, but quickly realized as [the victim] was screaming that it wasn't."
"Each were afraid to physically intervene because they would have testified it looked violent to them. They were young and they were afraid of the two men," Workman said, so instead one called 911 and also went to find help.
"Both lifeguards would likewise have testified they were sent into the woods thinking they were going to find some teenagers having a good time," Workman continued. "They were shocked and greatly affected by what they eventually saw and heard, and nothing they witnessed indicated anything other than a violent, traumatic event."
She said both Hamadeh and Pena asserted to the lifeguards that nothing was wrong, but Hamadeh later slipped away, only to be arrested a short time later. While he denied having sex with the woman, he later reportedly admitted it to an acquaintance during a phone call from jail, which authorities recorded, Workman said.
A forensic examination of the victim found male DNA present, but the sample was insufficient for identification, prosecutors said. The victim's blood-alcohol content was also tested more than two hours after the incident and measured 0.109%, well above the state legal limit for intoxication.
Hamadeh is "effectively banned from Franklin County," A.J. Dudley, the county's commonwealth's attorney, said Tuesday. He will be on probation for five years after his release, must register as a sex offender, and is not allowed to have any contact with the victim.
"Mr. Hamadeh entered a plea of no contest today because he maintains his innocence," defense attorney Rob Dean said at the hearing, and added that if the case had gone to trial "he would have presented evidence ... to establish that this was a consensual encounter."
Pena, who remains in custody and is also charged with two counts of rape, is slated to have his next court hearing scheduled this week.