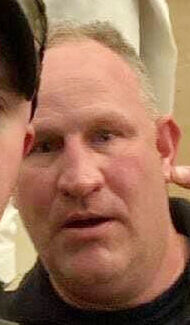 By Thomas "T.J." Robertson's account, his role in the events of Jan. 6 consisted of walking into the U.S. Capitol with the permission of a police officer, posing for a photograph and then leaving less than 10 minutes later.
Yet he has already served more time in jail than many of the non-violent participants in what federal authorities say was an insurrection kindled by the words of former President Donald Trump.
Roberston's stay in jail was extended Nov. 12 by a federal judge in Washington D.C., who turned down his request to be released to home detention after spending nearly four months behind bars.
In several ways, his case is different from that of more than 650 others charged with participating in the insurrection: Robertson was a sergeant for the Rocky Mount Police Department at the time, and after being released on bond he placed online orders for 34 firearms and more than 1,000 rounds of armor-piercing ammunition, kept a partially assembled pipe bomb in his Ferrum home and posted on social media that "VIOLENCE" was the next step in a revolution that started Jan. 6.
U.S. District Judge Christopher Cooper, who revoked Robertson's bond in August, found no reason to change his mind.
"The mere passage of time, without a substantial change in the 'underlying reasons for this court's prior decisions' regarding pretrial detention is generally not sufficient to warrant reconsiderations," Cooper wrote in brief order denying Robertson's request.
No trial date has been scheduled for Robertson, who will likely spend the Thanksgiving and Christmas holidays in his cell at the Central Virginia Regional Jail in Orange, Va., about a three-hour drive from Rocky Mount.
At a hearing last week, Cooper scheduled a status conference for the 48-year-old and Jacob Fracker — a fellow Rocky Mount police officer who accompanied Robertson inside the Capitol — for Jan. 20.
Robertson and Fracker, who were fired from their police jobs shortly after a Facebook photograph showed them posing inside the Capitol on Jan. 6, are charged with the felony offense of obstructing an official proceeding and several misdemeanors that allege illegal entry of the Capitol.
Of the approximately 675 individuals arrested so far, at least 210 have been charged with assaulting or resisting police officers who tried to turn them back from invading a special session of Congress that was being held to certify the results of an election won by President Joe Biden.
Lawmakers were forced to flee for their safety before order was restored.
There was no evidence of the widespread voter fraud that Trump claimed cost him the election.
More than 120 of the defendants have pleaded guilty, according to a summary of the proceedings though Nov. 6 posted to the website of the U.S. Attorney's Office in Washington, D.C.
Of the 28 sentenced so far, 11 were sent to jail or prison. The others received suspended sentences or probation.
Robertson contends that "he did not break anything or assault anyone" during his time in the Capitol. For nearly the same conduct, others have been allowed to plead guilty to misdemeanors, defense attorney Mark Rollins wrote in court papers.
In a motion filed Oct. 25, Rollins asked that his client be released to home detention, writing that three months in jail "has taken its toll on his mental and physical health."
Because he is a former police officer, Robertson is segregated from the rest of the jail population and spends 23 hours of each day in his cell, Rollins wrote. The time in jail has taught Robertson to obey the judge's orders, he says.
But prosecutors responded that the Army veteran has expressed no remorse for his actions, and that someone with a police background should not have to be taught to abide by the law.
Such a request "makes a mockery of the badge he used to wear," Assistant U.S. Attorney Elizabeth Aloi wrote in asking that Robertson remain in jail.
Robertson's father died in October, the motion states.
"The only new information he raises is the unfortunate loss of his father," Cooper wrote in denying the motion. "That, however, has no bearing on the question of pretrial detention."