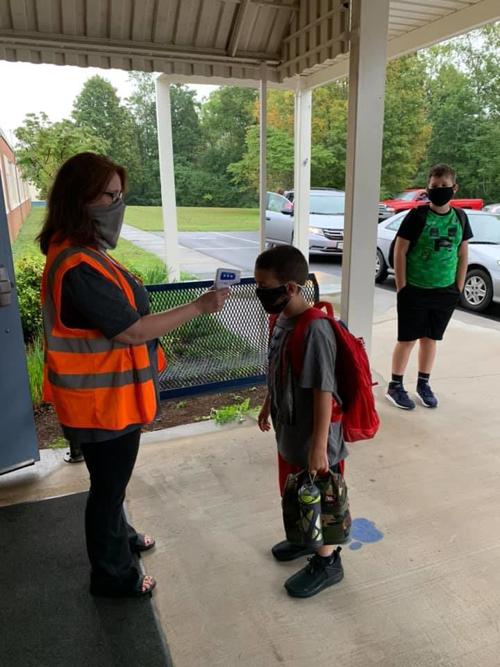 After nearly six months of silence, Franklin County's school bells are once again ringing.
Students returned to school Sept. 8, facing a whole new normal due to the fear of spreading COVID-19.
Building administrators and staff spent months putting into place many new precautions in an effort to keep students safe while learning during the pandemic.
Students and staff are now required to wear masks in buildings and on buses at all times, and everyone is encouraged to remain 6 feet away from others. Temperatures are being taken before classes begin, and extra time for handwashing has been worked into all schedules.
Desks have been spaced far apart, and class sizes have dramatically decreased.
Parents were given the choice between sending their children to school two days a week – "A" students attend on Mondays and Tuesdays and "B" students attend on Thursdays and Fridays – or helping their children learn virtually at home via Canvas, the division's chosen learning platform.
Parents could also opt out of Franklin County's curriculum and choose to completely homeschool their children.
"Overall, I think students did very well on the first day," said Superintendent Mark Church. "They seemed happy to be in school and teachers seemed happy to finally have students back in class. Most parents seemed pleased with how the schools are handling social distancing. We did have a few technical glitches that we are working through, but we have done everything we can think of to provide quality instruction and to keep students safe."
Sontag Elementary Principal Gail Brendle said she was pleased with how "cooperative and kind" students were upon returning to school.
"The students were amazing," she said. "Everyone wore their masks and they stayed 6 feet apart. I think the students were as excited to see us as we were to see them. The teachers were sad to see students in masks, but they understand we are trying to take every precaution to be as safe as possible. For the most part, this has been a smooth process, a great opening and we are looking forward to this being an awesome year."
County middle-schoolers have turned their masks into fashion statements.
"Back-to-school outfits weren't just about new shoes and shirts this year," said Benjamin Franklin Middle School Campus Principal Jami Clements. "Everyone showed off their style with different colors, shapes and sizes of face coverings. In addition to the face coverings, our teachers and students seemed to have no problems adapting to the new routine. Several students told me they were just glad to be back in school."
Clements added that she was grateful to parents for being understanding of the changes and for keeping the lines of communication open.
"We continue to work with our parents and students to make sure they can access their online learning," Clements said. "After months of planning and anticipating, our administration, teachers, students and parents were all ready to get the school year started, and I feel that the hard work paid off with the success of our first day back. We look forward to working with our parents and students to make this an effective learning school year for all of our students."
Franklin County High School Principal Jon Crutchfield said the first day of school at FCHS was "great."
"Our students and teachers were glad to be back and adjusted very well to the changes that are required of us," Crutchfield said. "Students seemed to be very happy to be back in school and our teachers are settling in nicely to their new routine."
Crutchfield said parents that he has spoken with over the last few weeks seem happy that their students were provided an opportunity to return to school.
"We are glad school is back in," said Greg and Missy Bowles of Rocky Mount. "Kids need structure and social interaction."
The Bowles' son, Dominic, is a senior this year at FCHS.
"The first day was good," said Dominic, who is taking part in hybrid education. "Everybody was doing what they were supposed to do – wearing masks and staying away from each other. But, it was weird to have to be escorted everywhere. I always thought my senior year would be awesome and special, but because of COVID, it will be just like any other year."
The Bowles' said they felt "more at ease with the situation" after making it through the first day and hearing from their son how well the first day went.
Kristin Scott of Rocky Mount is assisting her two middle school sons with virtual learning this year.
"Our experience with virtual learning so far has been challenging at times, but we are working through it," Scott said. "We especially like being live with the teacher. It gives us an opportunity to ask any questions and get answers right away. I find that having my kids write down their upcoming assignments the old-fashioned way – with a pencil and paper – in a planner helps with the feeling of accomplishment, as you can mark each assignment off as you finish them."
Other changes this year are taking place on the county's buses.
Safety precautions put into place on buses include sanitizing after each route, seating students one per seat and wearing face coverings.
Supervisor of Transportation Cherie Whitlow said that, overall, the first day was a success.
"I think students and parents appreciated the safety precautions that were taken while transporting students," she said. "We experienced no issues with students wearing masks and students from the same household have been approved to sit together."
Whitlow said the transportation department has worked endlessly since April devising routes and adjusting to day-to-day changes brought on by COVID-19. "There have been ups and downs along the way, but we definitely need to thank the parents and community members for being so supportive and appreciative," Whitlow said. "We had an influx of messages every single day. With all-hands-on-deck, it still took us a couple of days to return calls. Everyone was so nice and understood the task at hand. They really appreciated the time we spent on devising plans to keep their children safe."
As the education community works to adapt to the ever-changing new school year, some are wondering if the changes are here to stay.
"We are uncertain how long this modified instructional approach will last," Church said. "Right now, Franklin County has low COVID numbers. I anticipate that, with the numbers we have now, we will continue with a modified approach for at least a grading period or two."