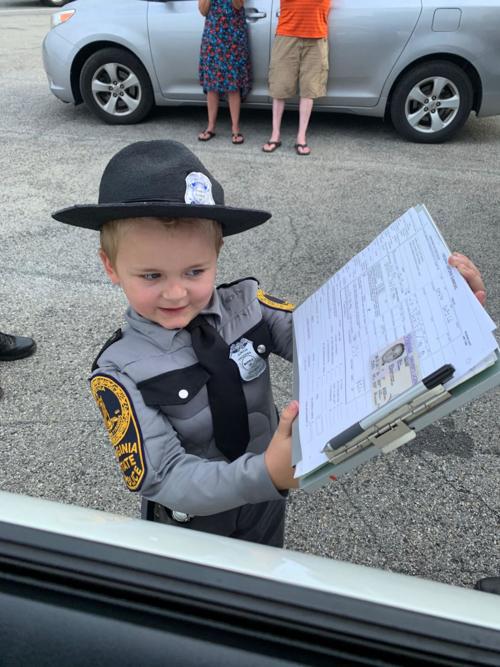 When Sheila Smith put out an appeal a few months ago on Facebook for law enforcement patches and challenge coins for her son Trevor's 7th birthday on Sept. 1, she thought maybe he'd receive 30 to 40 patches and a few coins.
To date, the Glade Hill second grader has amassed about 550 patches and more than 120 coins. "I didn't expect it to be like this!" his mom exclaimed.
Some patches have come from as far as Oregon and some were even worn during recent riots.
She said it's been fun getting mail out of their mailbox and hearing him say, "Wow, mom! That's so cool," as she opens the packages for his inspection. With every item he receives, Smith snaps a picture.
Trevor's fascination with law enforcement started at an early age.
"He's grown up around it," said Smith, who has worked in dispatch for Carilion Clinic's police department for nine years. Trevor's uncle is a Roanoke County sheriff's deputy. For his first birthday, Trevor received a toy police car. At Halloween, he dresses up as a law enforcement officer. So it comes as no surprise to his family he aspires to work in law enforcement.
Among those who heard about the collection efforts was a retired firefighter/EMT Air Force veteran from Florida. He was so impressed with Trevor's interest in law enforcement that he made and sent him a wooden holder painted like an American flag that was designed for holding about 100 coins. He also plans to send him another holder for his growing collection.
With the gift, he enclosed about 20 smaller wooden flags that said "thank you" on them that Trevor could give to law enforcement officers. Trevor said it's important to support those in law enforcement "because they protect us, catch bad guys, and they are our friends."
Trevor has been having fun supporting those in law enforcement by giving away the flags to officers including representatives from the Franklin County Sheriff's Office, the Rocky Mount Police Department, local Virginia State Police and Chesterfield's police and sheriff's departments.
One of the flag recipients was Cpl. Bryan Johnson of the Franklin County Sheriff's Office. Johnson said he lives just up the street from Trevor and enjoys visiting with him whenever he gets a chance.
"It's awesome because of the way the world is — to have a kid now who wants to follow in those footsteps and to love and respect us," Johnson said.
To show his support for Virginia State Police, Smith called the office on Pell Avenue and spoke with them about Trevor's wish to surprise the local troopers with the wooden flags. They set up an afternoon meeting at the office for when there would be three troopers on duty. When the Smiths reached the office on Aug. 5, they discovered that the troopers had arranged their own surprise for Trevor.
A trooper showed Trevor around the office and let him sit in his patrol car and operate the lights and siren. Then a trooper asked Trevor how he'd like to make his first traffic stop, write a ticket and make an arrest. He said, "I'd like it!" Providing back up to the troopers for the mock traffic stop of his mom were officers from the Rocky Mount Police Department.
While Trevor was delighted with the afternoon's activities and referred to the event as "epic," his mom could tell that the experience meant a lot to the officers as well. Smith said she really appreciated the time the officers spent with their family.
"They gave him memories he'll never forget," she said. "The professionalism they showed that afternoon, taking time to make him feel like he was one of them and the experiences they gave him were absolutely amazing."
Another positive law enforcement experience for Trevor took place in a grocery store parking lot this summer. Rocky Mount Police Officer Christy Witt was working night patrol and had stopped to complete some paperwork when she saw Smith and her son pull in. Knowing Smith from previous employment and wanting to meet Trevor, Witt stepped out of her vehicle to greet them and gave Trevor a RMPD junior officer badge sticker.
"Trevor then handed me a blue wooden thank-you plaque and said something like 'Thank you for your service and for keeping us safe.' I was not expecting that at all," Witt said. "It really touched my heart that while I was trying to do something nice for him, he had the same good intentions to do something kind for me.
"One of my goals as an officer is to make a positive impact in the lives of others and especially our youth. I want children to learn that a police officer's primary role is to serve and protect and that they can always come to an officer for help."
Not all of Trevor's out-of-town tokens arrived by mail. On Aug. 28, he was surprised when two law enforcement vehicles from Chesterfield pulled up with lights flashing and sirens blaring. Out stepped three police officers and two sheriff's deputies to wish Trevor an early happy birthday.
Having heard about Trevor's wish of receiving patches and coins for his birthday, the visitors arranged a personal delivery with his mom. Smith said she could tell he was really shocked, and she was just amazed and grateful for their support to spend about six hours driving about 300 miles in the coolest cars they could get to make his birthday extra special. Their tokens were even packaged in evidence containers.
They were willing to make the trip, Smith said, because they told her, "You don't really meet kids these days that support law enforcement or want to be an officer when they grow up."
They spent about 35 minutes with Trevor and even invited the Smiths to come to the FBI office in Richmond when life gets back to normal following the COVID-19 pandemic.
Witnessing the mutual appreciation between Trevor and the officers and deputies and seeing how her little boy could lift the spirits of those in law enforcement was such a rewarding experience, Smith said.
"It's touching to see how he's being accepted into the blue family at such a young age and how he has really touched a lot of people by showing them the positive side of law enforcement," she said.
For Trevor's birthday, the local police and sheriff's departments teamed up with a few vehicles to form a parade in front of the Smith's home with the lights flashing and sirens blaring.
As he starts back to school and moves forward in life, Trevor will have the satisfaction of knowing that not only has he been blessed with gifts from those in law enforcement, but he has blessed and encouraged them as well.
Witt proved that by saying, "The thank-you plaque Trevor gave me is sitting in my office. It is a constant reminder that kindness matters and that my role as a police officer is making a difference in the lives of others and is appreciated."