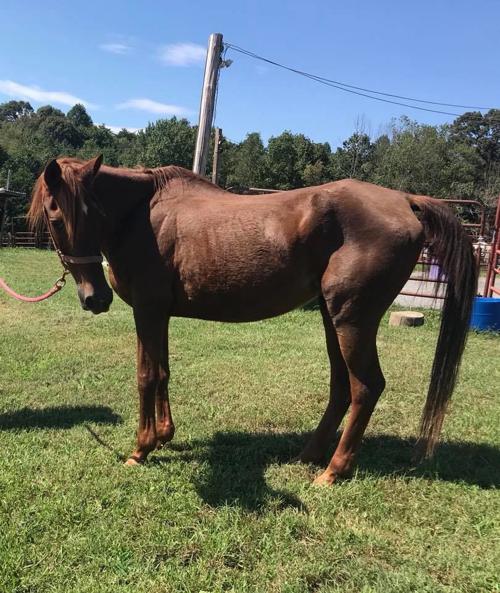 More collateral damage from the COVID-19 pandemic is being revealed every day, even at area nonprofits. That is especially true for the Roanoke Valley Horse Rescue.
The Franklin County nonprofit has been a haven for horses in need for 18 years. In times of a bad economy, RVHR Executive Director Pat Muncy's phone rings constantly. And while, at this time, she has room to take more horses, RVHR does not have the money to feed more horses.
"Our donations are down at least 75%, and we're are constantly getting calls from people who have horses and can't feed them," Muncy said. "We can't take them in because we don't have the money to feed them."
Donations covered June's feed bill with the last dollar coming June 30th. "I said, 'You know what, I'm just going to cover July to give people a break," Muncy said. "Unemployment is running out on everybody. Normally we send out a direct mailing twice a year. We usually raise about $20,000 in the spring and then again in the fall. This year we only raised $6,000. People just don't have it."
Muncy has a slush fund for times like this but that fund is dwindling. "I covered this month's feed bill because donations have been down so much. Our feed bill is $2,500 a month."
One of RVHR's Facebook fundraisers is to seed and fertilize a hay field that will feed the horses in the winter. "It takes $7,000 to fertilize and seed," Muncy said. "And we've raised about $3,000 so far."
Planting and harvesting their own hay crop is more economical for the rescue than buying hay for winter.
Currently, there are 45 horses living at the rescue. Muncy will normally have around 50, but she is keeping the numbers down to meet the bills. "I just got calls from two people in New Jersey who can't feed their horses, but I can't take them in," Muncy said. "Over the years we've gotten horses from California, West Virginia, the East Coast is normal."
RVHR needs money and volunteers. "Right now, I am working with a crew of five, seven days a week," Muncy said.
Volunteers assist with feeding and grooming, as well as maintenance such as keeping the fence lines clear and mending broken fences and gates. The horses are fed twice a day with volunteer hours from 9 a.m. to 5 p.m.
Volunteers younger than 18 must have an adult with them to volunteer. Anyone interested in volunteering can contact the RVHR at www.rvhr.com. Anyone interested in donating feed can go to a feed store to purchase it then let RVHR know so they can pick it up.
Another weekly expense is the farrier that cares for the horses' hooves. The farrier works on five or six horses during his weekly visit at a cost of approximately $500. The work is necessary to keep the horses healthy. Each horse will see the farrier every 6 to 8 weeks. Donations pay for this as well.
Muncy has applied for grants, but she said she will not know if they will receive the funding until November.