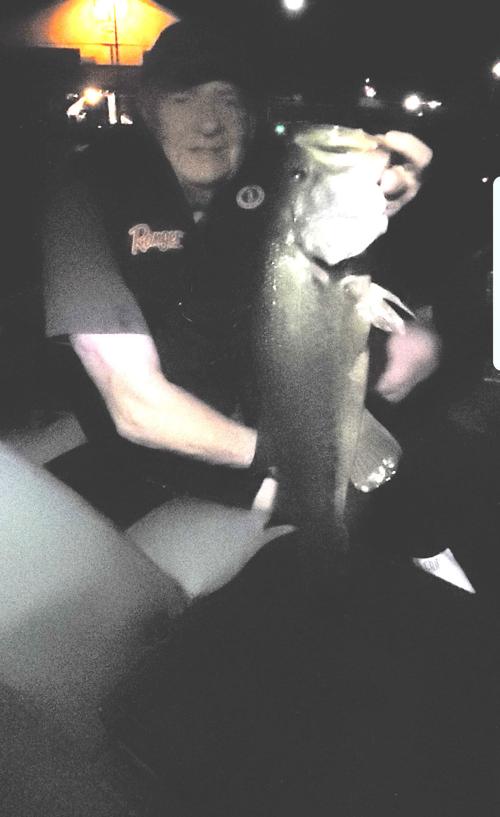 This will be one of the busiest months for boat traffic on Smith Mountain Lake. Due to the heavy traffic, anglers should consider limiting fishing to early mornings and nights.
Water temperature will be in the upper 70s to low 80s this month. July is usually a good month to fish for stripers in deep water.
Largemouth bass
Fishing for largemouth bass will be good at night this month. Best lures will be large plastic worms, jigs, drop shots, crank baits, Carolina rigs and shaky heads. Points, brush piles, rock piles, ledges and deep docks will be the best areas. Best depths will be from 2 to 25 feet. Practice catch and release as bass do not live well once the water gets warm. Most shad have spawned, and late night topwater fishing is nearly over. The best lures to use at night are crank baits, large plastic baits and football head jigs.
Smallmouth bass
Fishing will be fair. The best areas will be humps, ledges and deep rocky areas. Best lures will be tubes, Ned rigs, hair jigs and crank baits, and the best areas will be in the mid- to the lower sections of the lake. Cloudy days and early morning are the best times. Look for areas with rocks, humps and ledges next to deep water. They feed heavily on crawfish around the full moon.
Striped bass
Fishing should be good this month. Stripers will be caught in the mid-sections of the lake and the mid- to lower sections toward the dam and in the large creeks. The best lures will be swim baits, jigging spoons and Zoom flukes fished on ½- to ¾-ounce lead heads. The best times to fish are cloudy days and early mornings. The best depths will be from 15 to 60 feet. Live bait fished on down lines and planer boards will work, too. They will constantly be on the move. Try to find the largest concentration of baitfish to locate the striped bass.
Crappie
Fishing for crappie will be poor. The best depths will be 10 to 20 feet. Crappie may be found around deep docks, brush piles and fallen tree tops. Docks with brush piles are usually good areas to hold them. Small live minnows and 1½- to 2-inch tubes or shad-shaped plastic lures fished on 1/16- to 1/8-ounce lead heads will work best to catch crappie this month. The best areas are the main creeks and the upper section of both rivers.
Tips of the month
Always wear a life jacket and never fish alone at night. Be aware of floating debris from heavy rains, especially when boating at night. Try to find the areas with the largest concentration of baitfish. Make sure running lights are on after dark. Reports about local fishing are available on The Bass Cast Radio Show. Be courteous, obey all the boating laws and take a kid fishing.