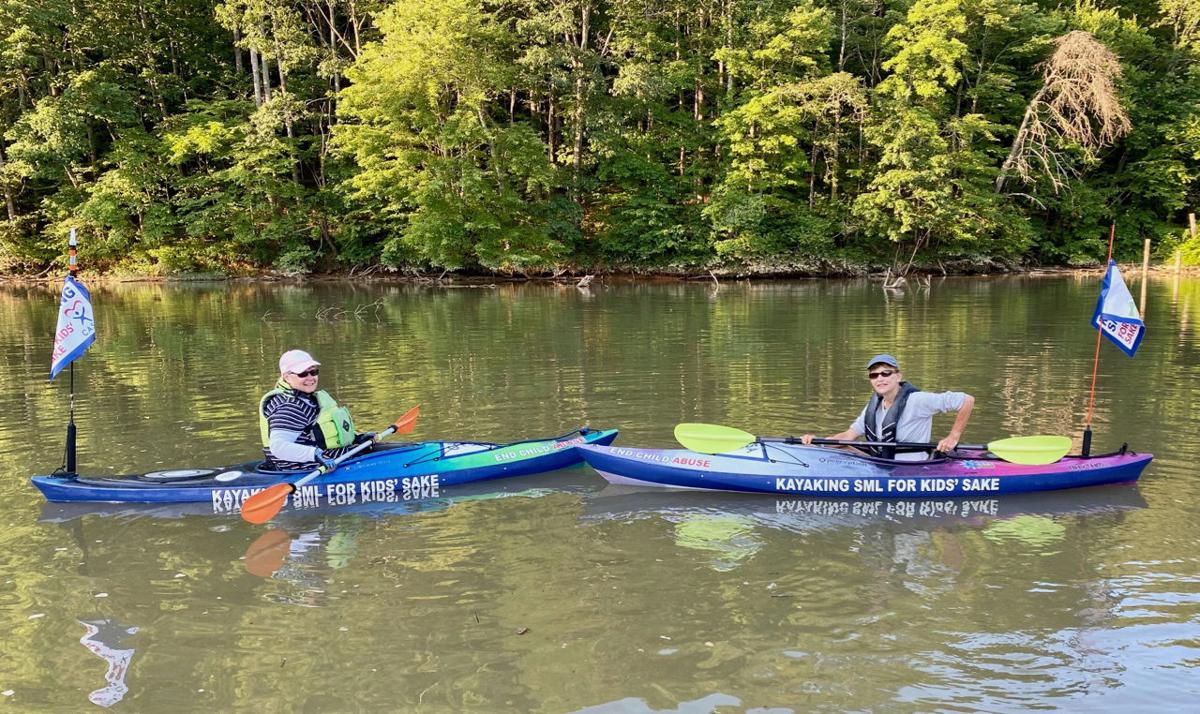 Sue Gallagher and Jane Marvin are nearing the end of their 500-mile kayaking journey around Smith Mountain Lake's shoreline. The duo will be arriving at Smith Mountain Lake Community Park on Sept. 12, right were they started a little over two months ago.
The two have made the long trek around the lake to raise money for the Southern Virginia Child Advocacy Center. So far they have raised $53,000 for the trip, known as Kayaking Smith Mountain Lake for Kids' Sake, but are hoping for some last minute donations to get them over their $100,000 goal.
This will be Gallagher's second time making the trip. Two years ago she raised nearly $30,000 in a solo journey around the lake.
It was during that trip when Gallagher found a kayaking companion in Marvin. They met at Marvin's dock when she passed by. Marvin said she asked about the fundraiser and the Southern Virginia Child Advocacy Center and soon became a volunteer.
When Gallagher decided to make the journey a second time, Marvin agreed to come along. She said she has enjoyed getting to see the lake and getting to meet people.
"It has been a fabulous experience," Marvin said of the journey.
Marvin and Gallagher said they hope the trip will also raise awareness about the needs of the Southern Virginia Child Advocacy Center. Both serve as volunteer Court Appointed Special Advocates representing abused and neglected children.
Court appointed special advocates work directly with children in need, becoming a safe person for them to talk to. CASA volunteers receive extensive training to learn how to investigate a child's case and write reports to advise the judge on the child's best interests and safety.
"We see these kids. We are in their homes. We are in the courts," Gallagher said.
Marvin said the need for assistance and volunteers is even greater in recent months. The pandemic has caused a combination of job loss for many people along with keeping people together for long periods under one roof that can sometime lead to abuse and neglect, she said.
State cuts due to the pandemic has also had an impact on the organization's budget, Marvin said.
Gallagher said the number of cases may be under reported right now. She expects cases to go up when school starts and teachers are able to see and report the signs of abuse.
The growing need is one of the reasons why Gallagher decided to make the journey once more. Now at 71 year old, she said this will be her last trip. Though Marvin hasn't ruled out another one.
The duo is expected to finish a few week's faster than Gallagher's first trip around the lake. They will be holding a celebration at the fishing pier of the SML Community Park on Sept. 12 at 10:30 a.m. to mark the end of the journey.
Anyone interested in giving a last-minute donation to help them reach their goal can go to their Facebook page with the title Kayaking Smith Mountain Lake For Kids' Sake. Those interested in becoming CASA volunteers can call the Southern Virginia Child Advocacy Center at 484-5566 for more information.