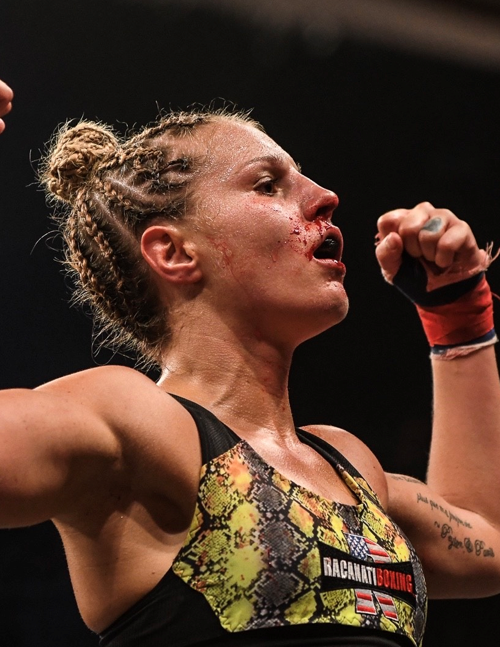 Britain Hart feels she has been fighting her whole life. The self-described Air Force brat spent her childhood in Turkey and Germany before moving to Virginia in 2000. In those early years back in the states she was bullied but by high school she became the protector. Now, the 30-year-old mother of two is setting her sights on a World Bare Knuckle Fighting Championship.
When Hart came back to the United States, she dressed differently than her Bedford County classmates. She was not German, but the children would call her the German girl.
It stopped when she was in Staunton River High School. She got the reputation for being a tough, aggressive player on her high school soccer and basketball teams. When she saw other kids being bullied, she would come to their defense and get in trouble for fighting. "But it was fighting for a good reason," explained Hart. "So, I got a reputation that way."
She went on to get a degree from Lynchburg College and then a master's degree in physical education with a minor in sports medicine from Old Dominion University.
Hart also got married to what turned out to be a not-so-nice guy. He got in trouble with the law with charges ranging from robbery to assault. She spent a year working to clear her name. During that time, she drank to cope and ended up with a DUI. In 2016, disappointed with herself, Hart walked into a boxing gym.
"When I walked into the boxing gym it was this crazy feeling, it just matched up, like everything in life had just led me here," remembered Hart. "And I never left."
She told her trainers she was having money troubles, and they encouraged her to turn pro and fight for money.
"I was naïve in the beginning and turned professional," Hart said. "Once you turned professional you can't fight in any amateur events. And then there were the politics of the boxing and fighting community. It was a hard road, but I never gave up and I never quit."
She has been on TV four times and has trained with legendary boxer Roy Jones Jr. "I did some things people were amazed by, like how in the grand scheme of things did she, a nobody from Bedford, Virginia, end up here," Hart said.
Then Bare Knuckles match makers came calling. Bare Knuckles Fighting is basically boxing with no gloves. In MMA they use gloves, kick, wrestle and use elbows, but in bare knuckle it is closed fists only.
Initially Hart said no to their advances because she wanted to focus on boxing, but the bare knuckles fight organizers were persistent.
"Finally, I told them I don't care how much money you offer me I'm not going on TV and fighting in front of millions of people to lose," Hart said. "One of the match makers told me, 'you know Britain I know you think that but I'm telling you I really think that you can beat this girl. This is your opportunity to change your life."
It was that statement that made Hart commit to the bare-knuckle fight with Bec Rawlings two years ago.
"I didn't win," continued Hart. "It was a split decision. That means one judge said I won, and two judges said I lost. I lot of people watched the video and said it was controversial and thought I won."
The video of that fight has more than 8.5 million views on YouTube, and it did change Hart's life. "A lot people contacted me and said I inspired them because I fight with the message that basically anybody can do anything if they set their mind to it and it's never too late," Hart said.
Hart has full-time job at The Copper Kettle Restaurant. During the pandemic she has continued to train locally and travels to Danville three days a week to train and teach a kickboxing class. She is also a part of the Women of the Carolina Fight Life, which helps women of all ages with self-defense and self-esteem.
"There was this girl that comes to the gym," Hart said. "She went into the ring and just tried to kill me. She threw all these hard punches, and it didn't go very well for her. But in the end instead of me being mean I explained to her what was wrong, and I would help her. We've been working together for two weeks now. The improvement is amazing. She is moving and actually treating it like a chess game instead of a bully match."
When Hart pointed out how the girl had improved, the young lady's face lit up. "The look on her face, being able to work with someone and watching them transform from somebody who just goes in there, not knowing what they are doing to actually being self-aware of what their body is capable of, and be smart and think and go in there with a purpose rather than just swinging is an amazing thing to see," Hart said.
When Hart is not training for a fight, she works out one to two hours a day. Now she is in fight camp training four to five hours a day six days a week, preparing for bout with Randine Eckholm on Nov. 13, in Tampa, Florida. The purse for a women's bare-knuckle bout is between $2,000 to $10,000.
Hart usually fights as a featherweight, a weight class between 118 and 122 pounds. Her goal is to win a world title, and she has competed for two so far.
"I fight people who are bigger than me," Hart said. "I fight people who are more experienced than me. I fight people with better records than me and I've come out 50-50 so far."