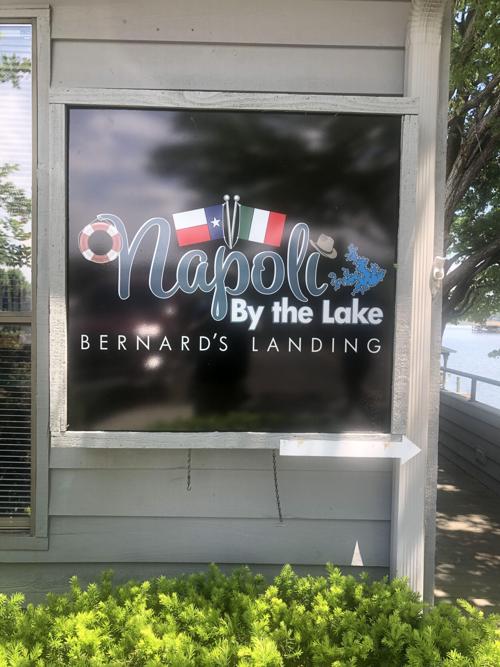 Rising food prices and staffing shortages have not stopped a local restaurateur from expanding services in the Smith Mountain Lake community. Napoli Cowboy now has a sister restaurant, Napoli by the Lake, open for business at Bernard's Landing.
The new restaurant is one of several new additions at Bernard's Landing as the development works to expand its services for the community.
Ray Wilson owns and operates both Napoli Cowboy and Napoli by the Lake with the help of his family. Napoli Cowboy in Wirtz specializes in tastes of Italy hence the "Napoli." The "Cowboy" in the name is represented by the Texas style meals of rib-eye steaks and ribs. The new restaurant, Napoli by the Lake, will have some of the same menu items.
Several restaurants competed for the spot at Bernard's Landing that had previously housed The Landing Restaurant. Napoli Cowboy's reputation and popularity set them apart.
"When it was determined we would be looking for a restaurant to fill the space there was significant interest from area restaurants," said Bernard's Landing General Manager Mike Thomas. "At the end of the day we thought Napoli Cowboy, which ended up being called Napoli by the Lake, was a fit for us. When you talk about the quality of their food and their service, their tremendous prices and we found out quickly with Ray Wilson and Bradley and Melanie, in some ways yeah it's a business partnership but it is also family."
Ray Wilson agrees. He runs his restaurants treating his staff like family and said the Bernard's Landing staff has become family. "You'll see Bob Barbour, president of Bernard's Landing Resort and Event Center, busing tables, doing whatever is necessary," added Wilson
The restaurants are a family business for Wilson, his stepdaughter, Melanie Mitchell, is the front-end manager, Brad Eames, her fiancé, is the executive chef. Wilson's son, Ray Ray, is now head chef at Napoli Cowboy.
Like many of the businesses in the lake area, finding staff has been a challenge and as the national news has reported food prices have risen dramatically over the course of the pandemic. Neither of these obstacles has stopped Wilson from opening the second location.
"You can't let fear stop you when a great opportunity comes along," said Wilson when asked if this was the right time to open a second location.
Wilson said staffing challenges mean that some visitors may need to make a reservation to ensure they have a table whether coming to eat at Napoli Cowboy or Napoli by the Lake.
Right now, Napoli By the Lake is open Thursday through Sunday from 4 to 9 p.m. Wilson plans to expand those hours when staffing permits.
"I think the combination of the great success they've had at Napoli Cowboy and now you're bringing them to what is possibly the best dining experience at Smith Mountain Lake right there on the water, it is a pretty strong combination," Thomas said.
Napoli by the Lake's menu will differ some from Napoli Cowboy. "Everything will still be made from scratch," Wilson said. "Napoli by the Lake will have a kids' menu and be friendly to the entire family. It offers steaks, seafood, pasta dishes and homemade desserts and we will offer our popular weekly specials. I've had some Napoli Cowboy customers tell me they have never eaten off the menu because they always eat the special."
Napoli by the Lake is also the preferred caterer for special events at the new Bernard House Pavilion in addition to being the home restaurant for the 281 residents of Bernard's Landing.
Thomas became general manager March 1 just in time to oversee the opening of the Bernard House Pavilion which where the community's club house use to be.
"We've always had venue's that can house outside events whether it's weddings, proms or small music groups or whatever," Thomas said. "The Bernard House Pavilion takes it up to a completely different level. It's covered. There are two tents there and we can accommodate over 200 people. For those who are coming here for weddings we have a beautiful bridal room. We can heat the tents; we can cool it. It's a very multifunctional, versatile space."
The new pavilion opened in the spring and is used by both the homeowners as well as by people coming in for special events.