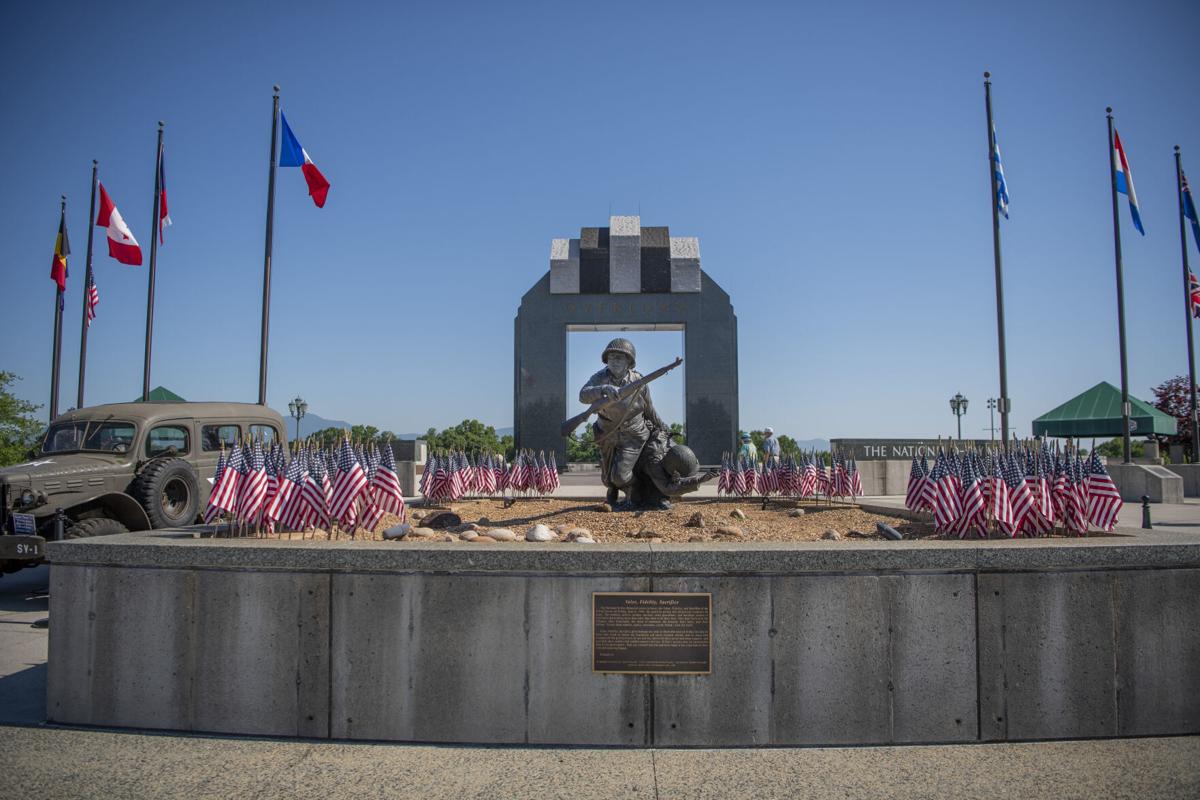 Former NASCAR driver, analyst and commentator Kyle Petty turned his enjoyment of motorcycle riding into a mission that benefits others. This year, he is bringing it to the National D-Day Memorial in Bedford.
The Kyle Petty Charity Ride Across America, which normally has between 200 and 250 participants, raises proceeds primarily for Victory Junction, a year-round camp in North Carolina founded by the Petty family for children with chronic or other serious illnesses and disabilities. However, the global COVID-19 pandemic slammed the brakes on the 27-year-old event; for the last two years, Petty was forced to cancel it.
Although the pandemic remains ongoing, Petty decided to start up the ride again in a limited, shorter version unlike anything he had tried before, dubbed the Charity Ride Revival. Petty invited a small group of previous participants for the revival event: a three-day excursion based at the Omni Homestead resort in Hot Springs, where riders will travel out to visit different locations within a 100 to 120 mile radius of their base.
"Everything was on the table. We were willing to try anything and everything, honestly, to make this ride work," Petty said.
With the resort chosen as a base, Petty began searching for sites the group could visit during the day. The National D-Day Memorial in Bedford was the first place that popped up in his search, he said.
Petty had been to Bedford a few times before, he said, having some friends in the area. The D-Day Memorial is a place he expects will resonate with military veteran riders.
Petty himself was deeply moved by his first visit to the memorial.
"We have so many people who served in the military," Petty said. "When we did our site inspection and came up there, I was blown away. Very emotional, very humbling, very quiet and spiritual, almost. I know our riders are really going to love it."
The D-Day Memorial will remain open to the public when Petty and his group ride in Sept. 21. Petty invited everyone to come visit the Memorial and have the chance to meet the bikers. Among the celebrity guests will be Petty's father, NASCAR legend Richard Petty — also known as "The King" — Harry Gant, David Reagan, and NBC sportscaster Rick Allen.
"This is just a great way to support two very worthwhile, meaningful organizations," said April Cheek-Messier, president and CEO of the National D-Day Memorial. "It's helping support the charity ride, but also supporting the Memorial."
When Petty set out with a few friends to travel by motorcycle from North Carolina to the Phoenix International Raceway in 1994, he had no intention of starting a new tradition and charity — yet that is what came of it. Along the way, other motorcycle riders joined Petty and his friends on the road. By the time they reached their destination, the small band had grown to a group of 30.
The popularity of such a ride was evident, so Petty decided to foster it and organize a formal cross-country ride for charity. In 1995, the Kyle Petty Charity Ride Across America launched.
The majority of proceeds from the charity rides fund Victory Junction. Opened in 2004 in honor of Petty's late son, Adam, Victory Junction provides enjoyable, nurturing, empowering, medically safe camp experiences year-round for children with chronic or life-threatening illnesses and disabilities who may not thrive or be accommodated in a traditional camp setting, according to Petty and a news release about the upcoming ride.
The ride usually is open for new participants, with the condition they undergo a mandatory safety training course a couple days before the event. This year, Petty said there would not have been time to host the mandatory safety class, so the group of participants — cut in half from its usual numbers — was exclusive to previous riders who already had completed the safety course.
"Because of COVID, and because of the way the world is right now, we had to really limit and know the people that were coming this year," Petty said. "We only opened this ride up to people who have been a part of the ride in the past. Overnight, people were like, 'Yes, we're in. we haven't seen anybody in two years. We're ready to ride motorcycles. Let's go do it.' It's a special group of people who will be coming, who believe in Victory Junction and believe in what we've done charity-wise."
Before Adam's death on the racetrack in 2000, he accompanied his father on a charity motorcycle ride that included a stop in Florida at a year-round camp for young people with disabilities and serious, chronic illnesses. Adam was so moved by the place that he dreamed of starting his own camp with a similar mission, Petty said.
When his life was cut short, Adam was unable to implement his vision, but his family took up the torch and established Victory Junction. Since its inception, Victory Junction has served more than 90,000 children and their families, Petty said.
Some funds go toward other charities that support children with chronic illnesses and disabilities. Victory Junction's outreach includes on-site camp activities, some remote opportunities, and hospital visits at select locations.
Socially distanced photo opportunities will be available, but due to COVID-19 precautions, Cheek-Messier said no autographs are planned. Visitors are encouraged to arrive around noon. Admission tickets will be available at a discounted rate if bought online ahead of time, Cheek-Messier said.
"To get back and see friends and ride motorcycles again is going to be special," Petty said.