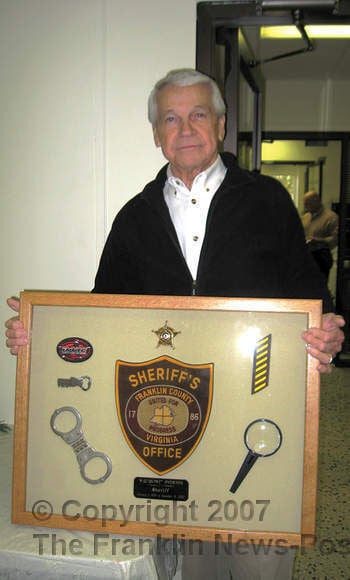 William Quinton (W.Q. Ouint) Overton Sr., who served as Franklin County's Sheriff for more than 30 years, died Tuesday. He was 83.
A native of Farmville, Overton, who was born Feb. 12, 1938, served in law enforcement for 48 years; first with the Virginia State Police in Franklin County for 14 1/2 years from 1958-1973, then with the Virginia Department of Alcoholic Beverage Control for 18 months.
Overton was first elected sheriff in November 1975 and took office Jan. 1, 1976. He retired in 2007.
"I've thoroughly enjoyed serving the people of Franklin County for all these years,'' Overton said upon his retirement. "I know I am going to miss the job, miss members of the department and the fine people who live here.''
Franklin County has had two sheriffs since Overton's retirement: the late Ewell Hunt and W.Q. "Bill" Overton, Jr. Overton's oldest son.
Both worked in the Sheriff's Office under Overton.
Bill Overton once said he learned countless, valuable lessons from his father—the most important was humility.
"When it came time to hand out credit, (dad) always included everyone,'' Bill Overton told The Franklin News-Post in 2008.
When Overton retired, he was the longest-tenured Sheriff in the history of the county with 32 years of service (eight, four-year terms) and 48 years in law enforcement.
When Overton was first elected, the Franklin County Sheriff's Office had 15 deputies, four jailers, four dispatchers and a secretary and the county had approximately 25,000 residents, according to information provided by the Sheriff's Office.
In 2007, the department had increased in numbers to 24 deputies, four civil processors, five investigators and a supervisor, 27 jailers and bailiffs, 13 dispatchers and four secretaries to serve nearly 50,000 county residents.
Overton was the 2007 recipient of the Marshall L. Flora Award, which is given by the Franklin County Chamber of Commerce.
Also, Overton was honored by the Virginia General Assembly in 2008 when the governing body passed a joint resolution sponsored by then 20th District State Sen. Robert Hurt and 9th District Del. Charles Poindexter.
Overton was 69 when he retired saying that "times are changing and there is a lot more involved now in running the sheriff's office. It's time for a younger person to take over.''
The resolution praised Overton for his 32 years of service to Franklin County and to the Commonwealth of Virginia as sheriff.
"There was no finer sheriff in the state of Virginia or anywhere else for that matter,'' retired Franklin County Circuit Court Judge W.N. Alexander II on the day the joint resolution was presented to Overton.
Overton and Alexander were on the ballot for the first time in 1975 with Alexander running for commonwealth's attorney and Overton for sheriff.
"In my opinion, (Quint) is the best sheriff in the state. Nobody could ask anybody to give any more than he has,'' Alexander said upon Overton's retirement, adding that it was "the end of an institution.''
Retired Commonwealth's Attorney Cliff Hapgood served in that office during Overton's tenure as sheriff.
"I can't imagine this county not having (Overton) here,'' Hapgood once said. "We'er very fortunate to have a man of his caliber. Working with him has been an outstanding experience. He's a legend with something to it.''
Overton and his wife, Ann, who preceded him in death, were married for 59 years. Overton's youngest son, David, who also survives him, played men's basketball at Ferrum College.
Besides being a husband and a father, Overton was a grandfather and a great grandfather.
Overton is the second prominent Franklin County citizen to recently pass away.
Earlier, long-time local restaurateur Lee David (L.D.) Arrington, who played an instrumental role in the establishment of the "Lights for Life'' project in response to the deaths of local first responders Posey Dillon and Danny Altice died in September at age 84.
Overton's funeral was scheduled for Monday at Franklin Heights Church.