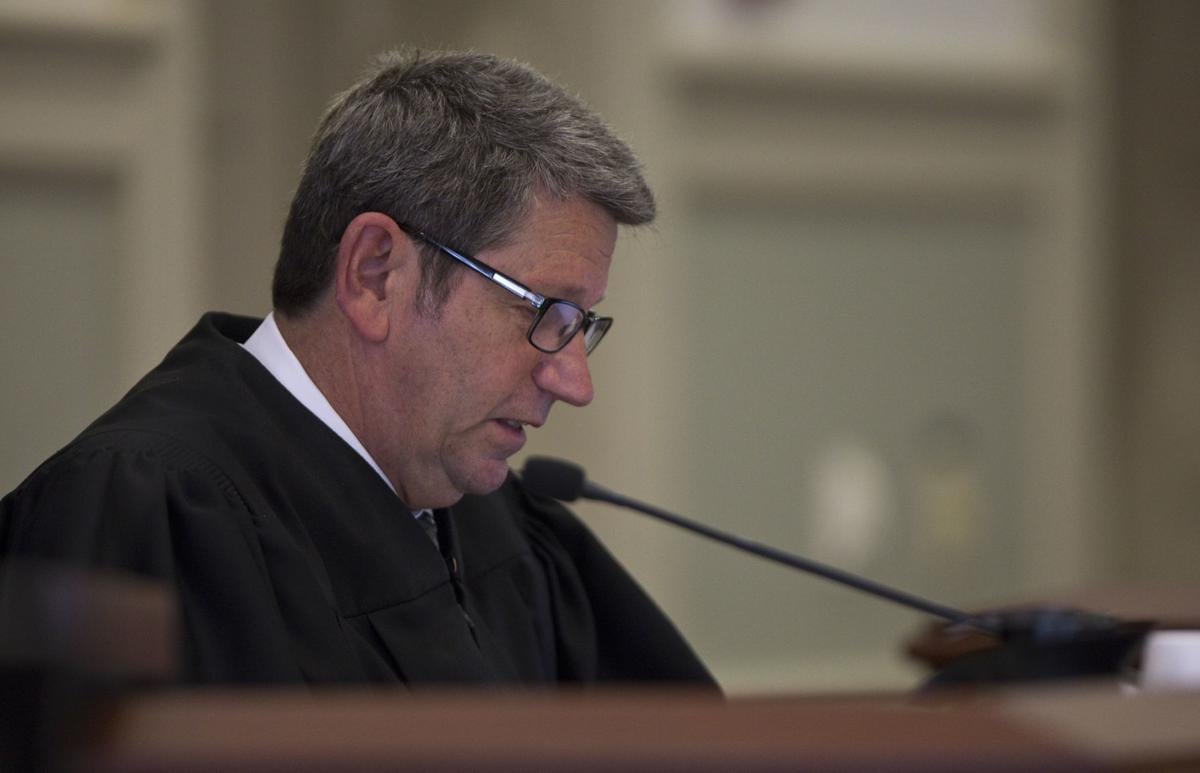 Franklin County courts lost an even-tempered and longtime fixture over the weekend, with the passing of recently retired Judge Clyde Perdue Jr.
He spent three decades in practice as a Rocky Mount attorney and represented the county school board for years before being voted into a circuit court judgeship starting in 2015. His tenure began with little time to ease onto the bench, as within weeks he was presiding over his first jury trial — a grueling case involving the fatal shooting of a 7-year-old boy.
Perdue, 66, stepped down just last month after being diagnosed with Alzheimer's disease, then suffered a stroke on Feb. 7, and remained hospitalized until his death Feb. 13, family members said.
"Clyde was known for his humility, for treating all people the same way," Rocky Mount town attorney John Boitnott said Feb. 14. "It didn't matter your station in life, he treated everybody alike. He was a man of the people."
"He had a very successful practice and represented a lot of people in Franklin County. He wrote their wills and their deeds, did their title searches for them," he recalled. "As a judge, he had no ego, he had no agenda. He gave everybody a chance to have their say in court. He was a judge for the people."
And he labored hard, Boitnott added: "There was never a morning that I can remember that he didn't beat me into work."
Franklin County Commonwealth's Attorney A.J. Dudley echoed Boitnott's impressions of Perdue's approach to the parties that came before him.
"One of [his] most consistent qualities was his ability to make each person in the courtroom feel at ease, and that their views would be heard," Dudley said. "Our area has lost a 'gentleman lawyer,' in the truest sense of the phrase."
When Perdue was up for his judgeship in 2015, local attorney David Furrow was also being considered for the coveted position, but Furrow said they took that factor in stride and even rode together to their judicial interviews.
"There was no acrimony," Furrow said Feb. 14, and he recalled overhearing Perdue's answers during his evaluation: "I remember what he said. That he liked practicing in a small town. He could walk to work. He liked to listen, and he thought he'd make a good judge. And he did."
"He was a humble and kind man with a heart of gold," circuit court clerk Teresa Brown said. "He loved the people of Franklin County and he was proud to be from here."
The son of a lawyer himself, Perdue helped perpetuate that tradition further still: His son, Holland Perdue, is a Rocky Mount attorney and his daughter, Delaney Perdue, is now in her third year of law school in Richmond.
Perdue is also survived by his wife, Vickie, son Peyton Perdue, daughter Madeline Perdue, and five grandchildren.
He got his undergraduate and master's degrees from Virginia Tech, then graduated from Campbell University School of Law in 1984.