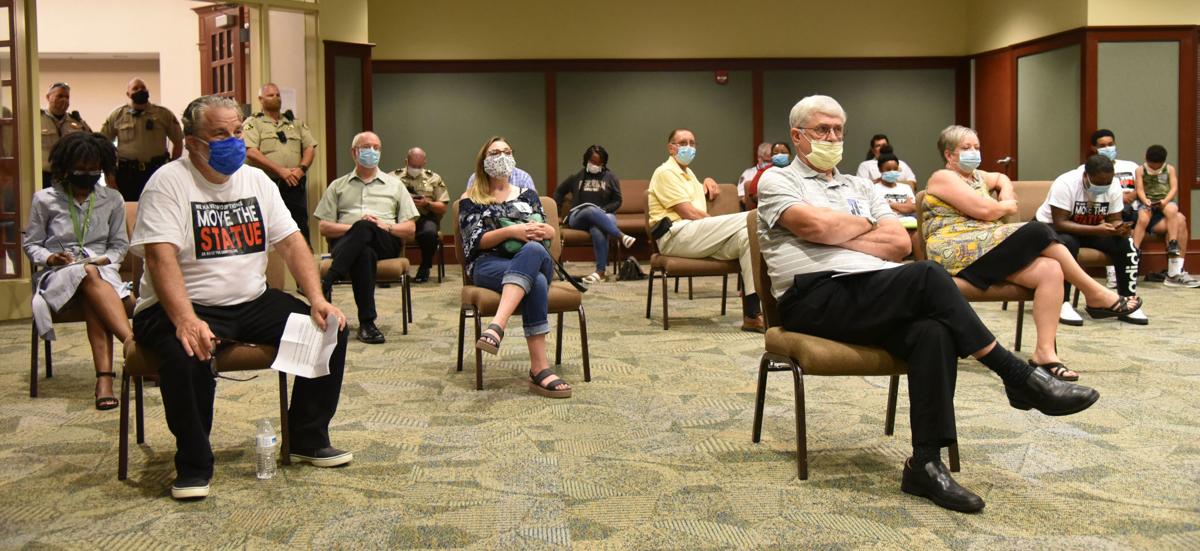 County residents will be given a vote on whether the Confederate monument on Franklin County Courthouse grounds stays or goes. Supervisors agreed July 21 to put the issue to a referendum on this November's ballot.
Debates over the monument have been raging online for the past few weeks. Speakers also called for its removal at last month's board of supervisors meeting.
While commenting on the issue July 21, several supervisors said listening to the concerns of some of the speakers last month allowed them to see the issue in a new perspective. Rocky Mount District representative Mike Carter said he was struck by one statement from a Black man who said he didn't feel that he would get justice at a courthouse with a Confederate monument.
"Not being African American I never thought about that, but I get that," Carter said.
Blue Ridge District representative Tim Tatum agreed that the statement helped him to see the issue in a new light. "That really hit home for me," he said.
Supervisors said they had received comments in recent weeks both for and against removing the monument. Gills Creek District representative Lorie Smith said she had gone back and forth on her opinion on the issue while listening to residents.
While most supervisors didn't give their opinion on the monument, nearly all expressed their support for a referendum. "I think we need to open it up as a referendum and let the county people vote," Boone District representative Ronnie Thompson said. "Let's see what they've got to say."
Blackwater District representative Ronald Mitchell was the lone supervisor to oppose the referendum when it came to a vote. He said he was against moving the monument and instead wanted to create a committee to discuss the issues and bring the community together.
"Let's not fight about this," Mitchell said. "This is not Franklin County."
Supervisors agreed to delay a vote on holding a referendum until hearing from the public that evening. In all, more than 30 individuals signed up to speak on the monument with a majority supporting moving the statue.
Moriah Moore, 10, was one of the youngest to comment. She carried her own step stool to the podium to allow her to reach the microphone. She questioned the historic value of a statue that was replaced in 2010 after the original was destroyed in a vehicle crash.
"I am older than the statue," Moore said, calling the monument a participation trophy. "It is not history and it needs to be moved."
Henry Turnage, who camped out at the monument for several days last month to support its removal, said supervisors needed to move the county forward by removing the monument. While he said those who support removing it would never become violent or tear it down, they would not stop until it is gone.
"That is not the Franklin County way and that is not my way," Turnage said. "I'm not violent, but I will jump through every hoop you give me."
Bill Prillaman spoke in front of supervisors twice July 21. He signed up to speak at the start of the meeting in the afternoon and returned for public comment that evening.Prillaman said the courthouse is not the proper place for a Confederate monument. He also questioned if a referendum would be the best way to decide what to do with the monument since less than 10% of the county's population is Black.
"A public referendum may not be the voice of those in Franklin County that are impacted by the statue," Prillaman said.
Local historian Francis Amos spoke in support of keeping the monument where it is. He shared how Booker T. Washington had given money in support of the statue when it was first erected in 1910 by the Jubal Early Chapter of the United Daughters of the Confederacy.
"Does that sound like hate or concern for white supremacy at that time?" Amos asked.
Bill Goode said removing the monument would not put an end to the issue of racism in the county. Once Confederate monuments are removed they will go to others, he said.
"Where is it going to stop?" Goode asked. "If you start saying this is racist, then you are going to get people saying so was Thomas Jefferson."
Following comments from the public, supervisors voted 6 to 1 to hold a referendum on the monument with Mitchell being the lone supervisor to vote against. According to the approved language, the referendum will ask if the Confederate monument should be moved from the county courthouse to a location of historical significance.
County Attorney James Guynn said a decision on the referendum was necessary as soon as possible to allow time to have it on ballots this November. Guynn also reminded supervisors that it would only be an advisory referendum, and the decision would still be up to supervisors.