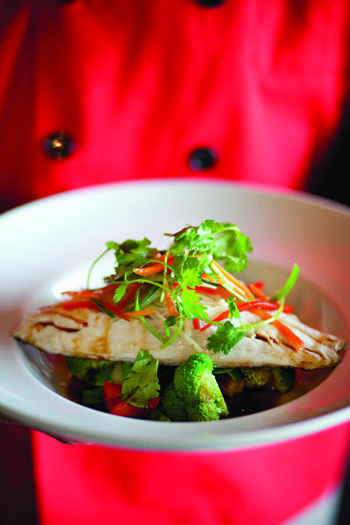 The restaurant scene at Smith Mountain Lake is like a sunny summer weekend on the water – always full of activity. Keeping up with openings and closings, overhauls and ownership changes can be a challenge, which is why, in this issue, we've deviated from our usual restaurant feature to profile four local favorites that have recently undergone significant changes.
Jonathan's Restaurant
From the outside, it may appear that little has changed at Jonathan's Restaurant at LakeWatch Plantation since it opened  in 2009. Walk inside, however, and you'll notice a considerable difference.
Last winter, the restaurant closed temporarily to expand into adjacent retail space, rearrange seating and adjust the location of the bar and other fixtures. Jonathan's also has a new general manager – owner Tom Gulick's sister, Lili Lyons. Lyons said comments from patrons prompted the design changes.
"We had feedback from customers that the bar area was making it too noisy to enjoy their dinner," Lyons said. "Moving the bar helped [fix] that. We also moved the dessert stand and brought in more of a buffet atmosphere."
Lyons said the objective of the restaurant is to meet several taste preferences, and make its offerings broad enough for entire families to enjoy.
"We still have the same stuff we used to have – the shrimp and grits, St. Louis ribs, steaks – but we wanted to bring more of the Asian flair, an American-Asian fusion," she said. "A range of menu items means you're not coming to just a steak house, Italian restaurant or Chinese restaurant. You're going to a place that caters a little of everything, is more family-oriented."
Since reopening, Lyons said both the facility expansion and the widened menu seem to have pleased customers.
"Everybody loves our Sunday brunch buffet and they are liking the Asian food. We try to keep the prices low enough for everybody. So far we've had excellent feedback," said Lyons.
WANT TO GO?
Jonathan's Restaurant
Address: 50 First Watch Drive, Suite 101, Moneta
Phone: 540.719.1212
Website: jonathansatsml.com
In-Season Hours: Monday-Thursday, 11 a.m. to 9 p.m.; Friday-Saturday, 11 a.m. to 10 p.m.; Sunday, 11 a.m. to 8 p.m.
Try This: A top seller is the Cantonese Red Snapper, a light fish prepared with ginger and soy sauce for $15.
Perfect Blends Café
In most locales, a good neighborhood coffee shop is a staple. For Smith Mountain Lake residents, it's a must-have business worth fighting for, even if it means convincing the local smoothie guy to run it.
Thankfully for the SML community, Corey Hansen didn't need too much encouragement. It was a venture already on his mind.
"My customers begged me to open a coffee shop because there was a void at the lake," said Hansen. "It works out perfectly to have one here at SML."
The young entrepreneur and his wife, Amanda, opened Perfect Blends Cafe in April inside The General Store on Scruggs Road. The coffee shop was a logical next step for Hansen who had been operating Star City Smoothies for six months in the retail store's parking lot. The mobile vending service sells smoothies, sandwiches and iced and hot blended coffee drinks.
Vicki Seekford, owner of The General Store, said the arrangement has worked out well.
"It's been a really nice asset to us. Our customers can go over there and enjoy lunch and their coffee customers can shop while they order coffee. It's a wonderful partnership," said Seekford.
Perfect Blends offers many of the same items sold by Star City Smoothies, plus a larger menu of food items such as croissants, bagels, pastries, quiche for breakfast and lunch sandwiches and paninis. Hansen said he intends to expand the menu as they develop new panini recipes.
"I want to be able to offer something different at the lake, a place where people can head over and grab a nice panini, a steak taco, a smoothie or one of a number of coffee drinks — menu items that are a healthy, different options," he said.
WANT TO GO?
Perfect Blends Café
Address: 213 Scruggs Road, Moneta
Phone: 540.488.2836
Website: perfect-blends.com
Hours: Monday-Friday, 7 a.m.-5:30 p.m.; Saturday, 9 a.m.-4 p.m.; Sunday, 10 a.m.- 4 p.m.
Try This: The tuna and artichoke Panini includes basil pesto with tuna and artichoke hearts on multigrain bread for $5.49.
Bruno's GastroPub
Leave it to Bruno and Tiffany Silva, owners of perennial favorite The Landing Restaurant, to introduce an emerging trend to residents and visitors at Smith Mountain Lake. In the spring, the couple transformed the restaurant's bar area into Bruno's GastroPub.
If you've never heard the term, "gastropub" refers to a restaurant that combines a pub-like atmosphere with food a bit more sophisticated than that offered by the average bar. Tiffany Silva said the trend, emerging in larger markets across the nation, attracts customers in the mood for both. In keeping with the style, Bruno's offers a customized menu with full entrees or smaller-portion snacks and artisan cheeses in an environment that invites mingling.
"Nothing on the menu is more than $20 and most things are much less," said Tiffany Silva. "Everybody thinks of The Landing as being a high-end restaurant. This gives you another option price-wise."
Silva said the change, which also includes overhauled beer and wine menus, has been in the works for some time.
"It started with the thought that we would open up a restaurant that would be a brewery/restaurant combination. What we ended up doing is revamping the bar at The Landing to make it into that type of option," she said. "We got rid of the domestic beer and brought in a bunch of craft beers from all over the country and all over the world. When we [finish] a keg, we'll be changing it to something different."
Bruno's GastroPub, named for the co-owner and executive chef, also includes additional seating – casual nooks with bench seating and leather pillows – that patrons can reserve in advance. And what's a pub without happy hour and music? Bruno's offers drink specials from 5-7 p.m. on the weekdays and live music every weekend in the summer. Check the website for a complete schedule.
WANT TO GO?
Bruno's GastroPub
Address: 773 Ashmeade Road, Moneta
Phone: 540.721.3028
Website: thelandingsml.com
In-Season Hours: Daily beginning at 5 p.m.
Try This: Already a big hit is the Beef Tenderloin Anticucho, Peruvian-style BBQ tenderloin tips with roasted cream corn for $14.
Poppy's at the Lake
Owning a restaurant at Smith Mountain Lake has been a long-time dream for locals Phillip and Amy Ward. Last spring, the couple made the dream a reality at a well-known lake landmark.
"We did several months of planning for a restaurant that we didn't end up getting," said Amy Ward. "We drove past the old Fallon's Restaurant in early March and noticed it was available. On March 16, we took possession."
The former Fallon's building on Virginia 122 is a perfect fit for the Wards' new eatery, Poppy's at the Lake.
"The bar is incredible; it is the 'Cheers' of SML," said Ward, referring to the former hit TV show set at a friendly neighborhood bar in Boston. "It has been here longer than anywhere else that has that kind of space. We've named it The Back Room and hired the most incredible competition bartender, Jennifer Newman."
The couple is running the restaurant with help from Amy's parents, Lyn and Dennis Benkendorf. Together, Amy and her mother have more than 45 years of food-service experience.
Poppy's offers a range of homemade, American-style menu items from steak and seafood entrees to sandwiches and pizza.  There's also the daunting Heart Attack Burger, which comes with a souvenir T-shirt.
"We make everything," Ward said. "We use all fresh, local ingredients. We make our own bread, salad dressings, desserts and everything in-between."
The restaurant features daily menu and drink specials and occasionally has live music. Ward, a mother of four, said she wants Poppy's to be a place where families and large groups can get a good, affordable meal.
"I am understanding of mothers bringing in children of different ages, [and] the children wanting to bring a friend," she said. "Family-friendly and affordable is very important to me."
WANT TO GO?
Poppy's at the Lake
Address: 15182 Moneta Road, Moneta
Phone: 540.297.3542
Website: facebook.com (search Poppy's at the Lake)
Hours: Monday-Thursday, 11 a.m. to 9 p.m. (bar until 11 p.m.); Friday-Saturday, 11 a.m.-9 p.m. (bar until 1 a.m.); Sunday, 10 a.m.-3 p.m. (bar 3-8 p.m.)
Try This: Ward said customers rave about the chicken salad. Order it as a sandwich on your choice of bread or as a salad on a bed of lettuce with a side of fresh fruit for $7.